Giorgio Armani Gift With Purchase
Just a quick heads up on the most recent Giorgio Armani Gift With Purchase that I think's rather lovely and worth being aware of if you're planning a GA splurge.  Having recently reacquainted myself with the brand by using their blusher again and realising how amazing it is, I have a renewed love for the brand and I do love it when luxury brands make an effort to reward their customers.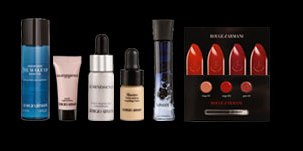 PIN IT
So! On to the GWP: you receive what appear to be fairly decent sample sizes, although keep in mind that they are sample-sized and considering the minimum spend for eligibility is £60, this is definitely only a bonus if you were planning to buy rather than a "I wonder what I can convince myself I need" occasion.  You receive samples of eye make-up remover, Regenessence, Luminessence, Armani Code and the two things that excite me most, Maestro and Rouge d'Armani; I'm loving the look of that lipstick sample sachet which I recall Chanel doing really well a while ago.  As I said, the minimum spend is a rather hefty £60 and the code is JUNETREAT which needs to be applied at checkout.  Usual blurb being that it's while stocks last and for more info head here.