Seventeen On The Spot Foundation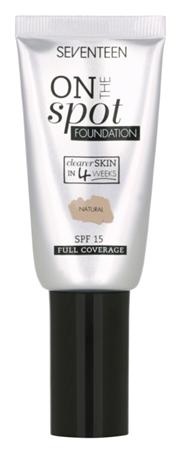 PIN ITIt's the year of fabulous new spot-fighting products and I can't try any of them, because the majority of them make full use of breakout-busting wonder ingredient, salicylic acid, which regular readers will know I can't go anywhere near due to pregnancy.  Still, it doesn't mean I can't keep you guys updated on what's happening and today I thought I'd give you a belated heads-up on a new make-up product that contains salicylic acid, Seventeen On the Spot Foundation.

There are a few things I like about this; firstly, it's high coverage which means it's definitely been put together for us spotty types, as there is no point in releasing a spot-treating make-up item that doesn't provide decent coverage.  The formulation contains some solid skin-clearing ingredients – the Skin Clear Complex – such as the aforementioned salicylic acid, soft white clay to keep oil at bay and licorice, which is actually a very popular spot-fighter and is often found in the more expensive products.  Couple of things that I'm not sure about; the fourth ingredient in the Skin Clear Complex is alcohol.  I know that, if used correctly, the inclusion of alcohol in a skin-clearing regime can be quite beneficial, but it's also very drying, so I'm thinking this foundation is better suited to younger skin.  There are also quite a limited selection of only six shades, which is a shame; I'm sure I could find something to suit my skin tone, but I think darker skin tones might struggle.  Nonetheless, I'm excited to get my hands on this post-pregnancy, as it is something I'd like to try out on my spot-prone skin, and at £6.99 it really isn't going to break the bank.  Hopefully this is the start of things to come, as there's definitely a solid arrival of products for spot-prone skin this year, so long may it continue! Seventeen On the Spot Foundation is available now from Boots, where there's currently 2 products for £8 over the Seventeen line. eads-up on a new make-up product, Seventeen On the spot Foundation, which is designed as a kind of skincare/make-up hybrid to help fight spots whilst providing coverage.