50% OFF?!!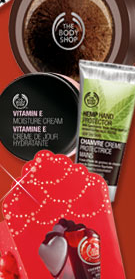 PIN ITA mega saving from the kings of beauty ethics, The Body Shop, who are currently offering 50% off everything in store and online, which is amazing!! It's quite easy to just associate The Body Shop with bath and body basics such as shower gel and their gorgeous Body Butters, but don't forget they also have a great range of make-up (and brushes) as well as a few favourites that I love to stock up on, such as their linen sprays of which there are several variants (and I do love me a good linen spray) which have matching candles that are also extremely good quality.  This is also a really good time to stock up on some back-up Christmas presents just in case you're not a flawless example of pristine organisation such as yours truly…*backs away in horror from calendar that states we have just 15 short days left until Christmas*
To make the most of The Body Shop offer online, use code 19809 and head here – link – but you'll need to be quick as this all ends later today (Tuesday 10/12/13).  Don't forget that everything is included, meaning all the gift sets, make-up, accessories…you get the picture.  Happy Shopping! xx
P.S.  I'm rather impressed with their "Get the Look" pages which contains ideas on achieving individual looks – of which there are quite a few available – broken down for each skin tone, so head there if you're looking for inspiration!