Mio Workout Wonder for Londoners
Mio (of Mama Mio fame) have recently launched a new range of beauty products designed to compliment or improve your fitness routine; think tighteners, firmers, gels and soaks that fit around the before, during and after workout time.  To celebrate these new arrivals, Mio have joined forces with Psycle to create a party on a bike.  For someone as lazy and demotivated as me this is pretty much my idea of hell, but for the majority of you guys who do actually respect the importance of healthy living this might be good.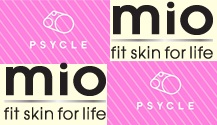 PIN IT
There are three classes running in total, all on the 26th February 2014 at Psycle London, W1.  Each participant gets a goody bag worth over £65 full of Mio products and all of hte £20 fee is donated to Look Good, Feel Better, so not only will you 'enjoy' a party on a bike and get to take home some lovely new products, you'll also be doing a bit for charidee.  What's not to love? Places are limited so you'll want to get cracking; more info and the booking form can be found here – link. The three slots are 9am, 1.15pm and 6pm, although the 9am slot is full already!