Nails Inc Get It or Regret It Page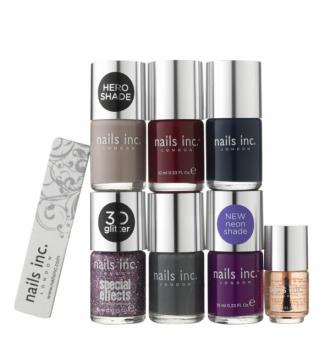 PIN ITAre you aware of the Nails Inc Get It or Regret It page?  I had a quick look at it yesterday and I was really surprised by just how much was on it; there are currently 115 products on there in total, many of which are sets, and they've all had their price considerably reduced.  For example, a lot of the Bling It On range are there for £10-£15, plus there are a lot of single shades in decent colours, not the dirge that you might expect from a sales page, and they are down to a fiver each.
There are quite a few sets with massive reductions, and a few of them are full-sized sets of 4-6 polishes.  For example the Splash of Colour set contains six full sized polishes for £15.  Therefore if you're looking to update or expand your nail collection, now is clearly a great time to do it since there are so many reductions.  If you're extremely organised (so not like me at all then) you could also pick up a few of the sets for birthday presents throughout the year as I personally think the sets make for lovely gifts.  Check out the Nails Inc Get it or Regret it page here – link.