Skincare Update: Cetaphil and Tria Blue Light
What a difference a month makes! I've just been checking back on previous blog posts to see what was happening when I first started on the Tria and a lot has changed.  Firstly, I was exclusively using Cetaphil products which I was loving, yet after a few weeks I was suddenly getting a lot of spots on my upper cheeks which is not the norm for me, and these were what I call 'reactive' spots; for me, whenever my skin is complaining about something it produces lumps under the skin (the non-painful variety, thankfully) that takes ages to go, and I was getting more and more of these.  I was doing lots of research and I couldn't find anything on the Tria that stated this would happen, so I looked into Cetaphil and it turns out this is extremely common! Some Cetaphil products contains SLS – a known spot-causer – so once I found this out, I immediately stopped using Cetaphil, moved on to some Clinique products (more on that soon) and literally within 48 hours my skin had improved drastically.  I still have the remains of the annoying lumps as they take FOREVER to disappear, but no new ones have appeared.  Annoying! So tread carefully with Cetaphil; they're a couple of great products that I'd say are best suited to sensitive or dehydrated skin types, but if you're spot prone then be careful.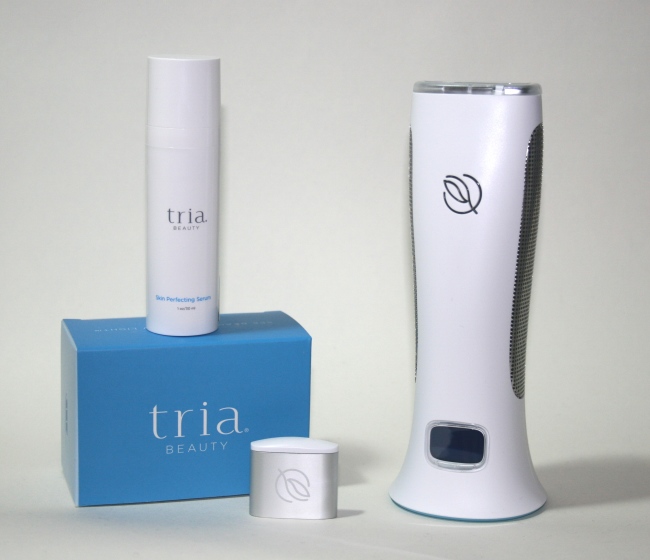 PIN IT
The Tria is still a breeze to use and I'm getting on very well with it.  At first it seemed to be reducing my existing spots but I wouldn't say for sure that's what's happening, however I would stay it stops spots turning into angry, infected welts that were a very common issue for me – I'd say I haven't had a single one of those lovely things since I started on the Tria.  I'd say that for me, the Tria works at keeping spots at bay rather than stopping breakouts completely; I still have a couple of spots here and there, but they don't become large, infected or angry and consequently they're a lot easier to cover, plus they don't leave such horrendous marks or dents, skin looks a lot less inflamed meaning redness isn't such an issue either, so the benefits of using the Tria Skin Perfecting Blue Light are actually pretty substantial, especially for anyone who battles with painful, easily infected acne.  I also love the fact that it's such an easy device to integrate into your skincare routine as literally nothing needs to change, it just slots right in for a few minutes morning and night.  Check out my intro post on the Tria here and to find out more from Tria, head here – link – at the time of writing they've knocked 15% off their Deluxe Kit making it £233 rather than £274.  No idea how long that'll stay live as it's stated as a Black Friday deal, so move quickly if you want the saving!
*PR Samples