/
L'Oreal Professionnel Smartbond – Worth the Hype?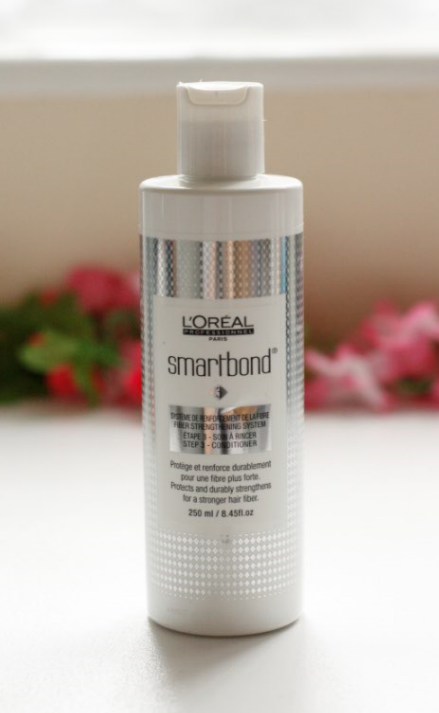 At my last visit to Charles Worthington (god I love it there) I was treated to a L'Oreal Professionnel Smartbond treatment, which is a deeply conditioning and repairing treatment that is used alongside your colour.  My hair is in pretty good condition and doesn't tend to break or frazzle very easily, so I wasn't expecting much from this – following the theory that you can't fix what isn't broken – especially as I had the Olaplex treatment a while ago and it basically did nothing for me.
However (you knew there was going to be an 'however' right?) the L'Oreal Professionnel Smartbond really did make a difference to my hair and is something I will keep having with my colour treatments.  The main difference, for me, was the fact that hair looked so incredibly shiny and felt a lot stronger; that isn't to say my hair felt especially weak before, but after the Smartbond treatment it just felt like it had been boosted and kind of thickened, but without any weight.  Speaking of weight, that's an especially important element to focus on as a lot of fine-haired girls like myself might avoid a treatment that promises to condition hair for fear that it'll weigh it down, but my hair didn't feel limp or saturated at all, just very healthy, shiny and in tip-top condition.  I was so impressed and would really recommend adding it to your colour, especially since it counteracts a lot of the negative effects of colouring treatments.  There's also a maintenance product which pretty much mirrors my above sentiments; I use it roughly every 10 days or so and it boosts the benefits of the initial treatment.  The L'Oreal Professionnel Smartbond is available at L'Oreal salons (find your nearest one here – link) and Rush salons with prices starting at £30, where you can also pick up the at-home conditioner for £16.49.
*PR Appointment and Sample