/
Five Best Barely There Lip Tints
For days when you're feeling the love for the 'no make-up make-up' look (tinted foundation, cream blush and a bit of mascara or similar), nothing finishes the look quite like a sheer lip colour. I'm a big fan of lip tints and I generally prefer ones that are a little on the pink side as I feel they brighten my face. Here's my pick of the best ones:
1. Clinique Chubby Stick Moisturising Lip Colour Balm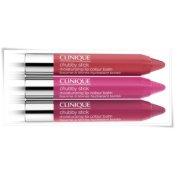 I have this in a couple of colours and it's a really lovely and easy to wear lipstick that you can wear sheer, or build up to quite an impressive gloss. My favourite shade is 'Woppin' Watermelon' (although I seriously cannot bring myself to request it so I just say 'that pink one, there') but Chunky Cherry and Super Strawberry are also really lovely shades. I'm not alone in loving these as they sold out within days of their launch and none of the Clinique counters I visited appeared to know when they'd get more in stock – I was told that the main manufacturer had not prepared themselves for such high demand and these sticks are still really popular now. RRP £15.  
This balm only comes in three shades, but all of them are very wearable. For the entire duration of my most recent holiday I was wearing the Coral shade of this, which is a mildly sparkly baby pink that is incredibly pretty and works with day and night make-up. I ended up buying THREE of these so that if I lost one I'd always have some spare. If you're looking to form a capsule wardrobe for your make-up then I strongly recommend adding one of these as they are very versatile and easy to wear. RRP £7.99
Is it me, or are make-up names getting longer? This is the most sheer of all the products on this list, but it's also the most moisturising, just in case you didn't pick that up from the name. I have the pink shade but it also comes in a peach shade. If you really want to look like you're wearing absolutely no make-up whatsoever then this is a great product to use as it gives the most subtlest hint of colour whilst plumping and softening your lips.  RRP £4.49
If Carmex's offering (I'm not typing out that name again) is the most subtle then this is probably the most vibrant. I've tried several of the shades and the colour pigmentation is very high, yet it's still a really moisturising treatment. There's an impressive shade list to choose from and with a couple of coats this is as vibrant as any other lipstick, but with the added bonus of feeling luxuriously softening too and having an SPF of 20. RRP £25
5. Burt's Bees Tinted Lip Balm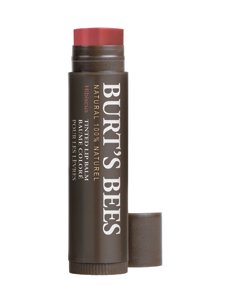 We had the sheerest and the most vibrant preceding this one which I'd say is bang in the middle. It comes in 4 shades and is a lipbalm with colour added, as opposed to a lipstick with balm added. By this I mean that it's main objective is to moisturise lips, which it definitely achieves, with the added bonus of a little bit of colour. The 4 shades are very pretty and my favourite is Pink Blossom. RRP £5.99